Intro
Countertop software is a reasonable decision for manufacturers whose success keys are perfectness and precision. The most effective countertop software of recent years in the digital market is Easy Stone Shop. You can make sure of its effectiveness by trying its functions.
Software solutions for a construction business can speed up its work efficiency, and as a result, increase profit. Adoption of digital technologies in a fabrication process assists in quicker scheduling of the tasks and getting quality results. Taking business to a new level with the help of automation will give a fabricator company an opportunity to expand its horizons, spread its services and build stable competitiveness in the market. In this article, we prepared descriptions of the best countertop software for fabricators.
7 Top Countertop Fabricator Software
Name
Pricing
Free Trial
Features
Easy Stone Shop
Easy Quote$ – 50/month
Easy Job – $295/month
Easy Shop – $595/month
Smart label – $100/month
Available for "Smart Label" only.
Draw Shape;
Draw Countertop;
Slab Selection;
Layout;
Veins Match;
Quote Items;
Customize a Printable Quote Form;
Adding Notes to Printable Quote Document;
Job Scheduling;
Moraware
Drawing and Estimating Software – $100/ month (per user)
Scheduling and Job Management – $600/month (5 users included;each additional users $50/month)



Available 30 Minutes Demonstration
Draw;
Layout;
Quote;
QuickBooks Integration;
Scheduling;
Job Management;
DDL
Free of Charge for Architects
Available "Blender" Demonstration
Layout;
Material Selection, Cutting, Installation;
Plans' Blending;
BIM function;
ActionFlow
Basic – $200/month (includes 4 users; $500 implementation fee)
Standard – $400/month (includes 4 users; $1000 implementation fee)
Enterprise – $600/ month (includes 4 users; $1,500 implementation fee)
Available Free Demonstration
Countertop Drawing;
Scheduling;
Barcoding;
CRM;
Cloud Data Storage;
Reporting;
ActionPay;
Easededge
$495/month (includes unlimited users)
30 Days Free Trial
Scheduling;
Job management;
Issue tracking;
Quoting;
Drawing;
e-Signatures;
QuickQuote
Economy – $1,000 (for individual users)
Standard – $1,500 (for small businesses)
Premiere – $2,250 (for larger businesses)
One-time fee
30 Days Free Trial
Countertop Quoting;
Automated Drawing;
Customizable Pricing;
Professional Printouts;
Scheduling;
Slab layouts;
Slabware
Fabricator – $179/month
Distributor – $179/month
Exporter – $199/month
Available
Drawing;
Quote;
Invoice; Inventory;
Job Tracker;
Best Countertop Software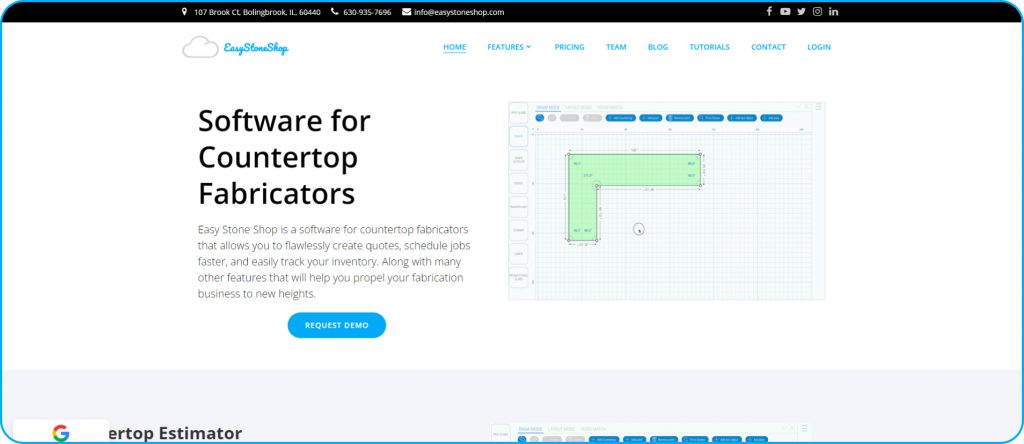 If you are searching for an excellent application to organize better your fabricating methods and approaches, this countertop software will assist you. The main advantage of Easy Ston Shop is the thought-out tools and functions for the users' quality work. All necessary instruments for your task performance and excellent order are built into the Easy Stone Shop software. The most important functions of the software are mentioned below.
The countertop estimator allows you to draw elements, create layouts, and create printable quote documents with drawings to interact with consumers more qualitatively and quicker.
Job scheduling improves your work effectiveness, thus competitiveness. Execution terms are under control. Tracking done work helps you not get confused with the details.
The intelligent label made by thermal printing marks each piece of the made element. Moreover, it also assists you with orderly work. This function is cost-effective, quick, and lasting.
Vein matching works in a simple way. If the edges don't quite match, the user has to go into the "Match Veins" Tab, click that button, and adjust selected shapes so they line up flawlessly.
Users can customize an existing quote form with the document editor by adding other informational details.
Slab selection in this software represents a wide range of filters and options. Customers can filter the slab type they want to choose.
The software provides excellent countertop-building functions that can benefit your expertise among competitors.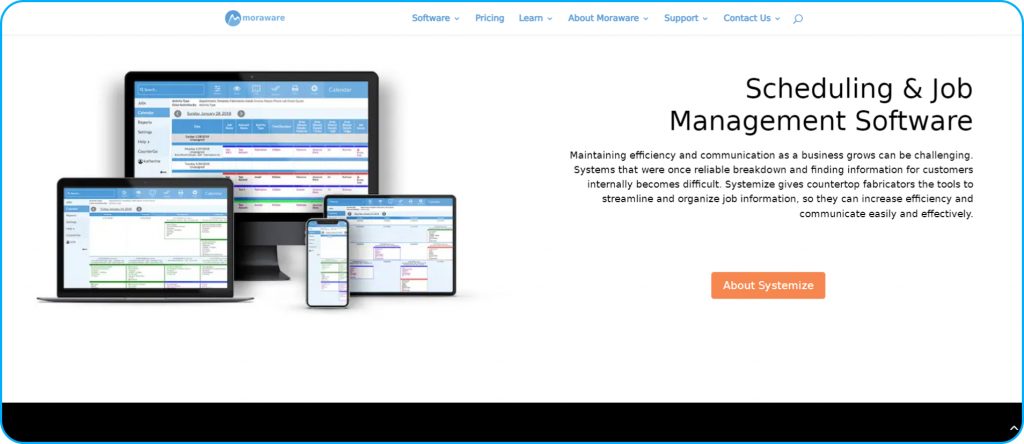 This software is aimed at stone countertop fabrication that is spread on the market present days. It has significant demand, more than 2,000 shops use it, and more than 14,000 Moraware users in general.
Let's survey this software's main advantages.
Drawing and estimating with a few clicks of the mouse provides you with detailed countertop drawings.
A new option – QuickBooks integration – assists in dividing sold items from available ones, in order to make accounting faster, consequently avoiding mistakes.
With scheduling, you can see each project's details, completed elements, timeframe, etc. Organizing work in one space will bring clear visibility and fantastic outcome. It helps reduce potential mistakes as well.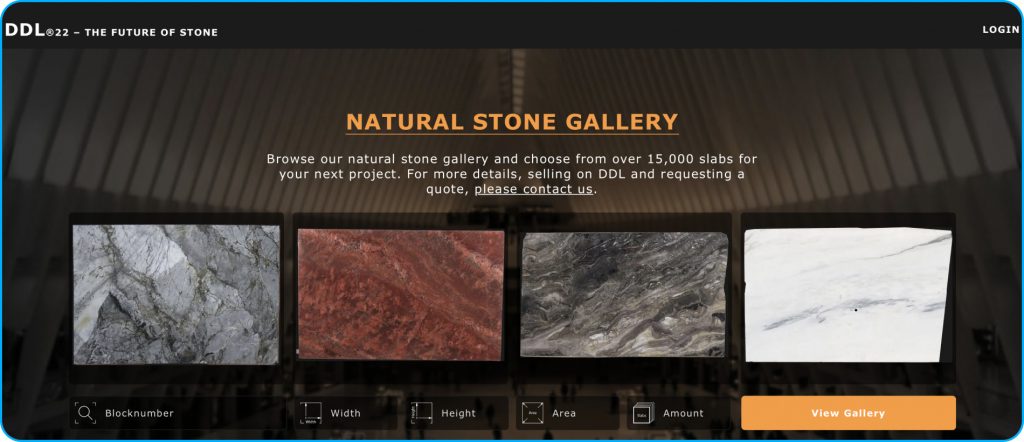 Fabricator software for an effective and perfect countertop construction procedure is provided by DDL. This app contains numerous advantages including the most vital such as cost transparency. A closer look at its features is presented below.
The software can calculate future expenses by providing an accurate basis for an instant cost estimate. This act can keep the money question in clarity for all stakeholders.
Another important point is quality management. Any design idea is accompanied by the documented output of complete reports in all project stages. As well as, the final provision of all important processing data for the machines before cutting. Besides, the Building Information Model – is compliant and certified by inspectors.
The program includes solutions for architects, suppliers, inspectors, and installers. This is why every individual who is related to such a procedure can take advantage of the DDL offers.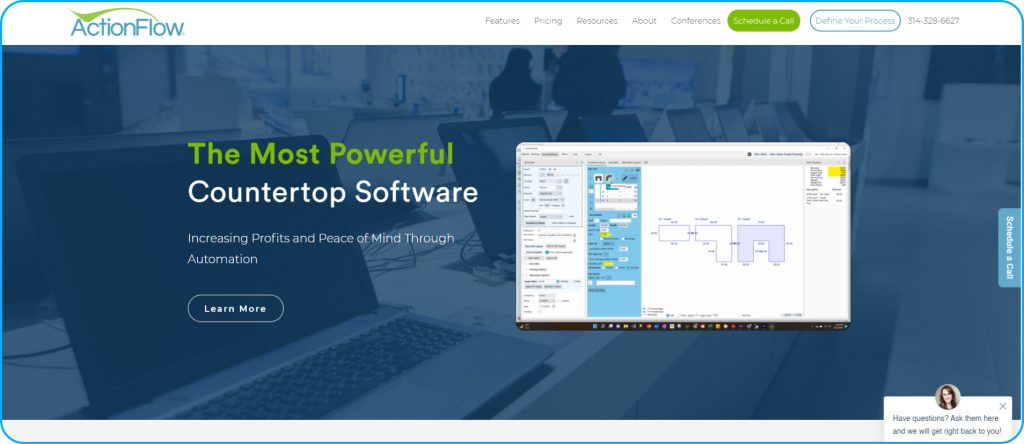 This countertop software has proven its efficiency with a significant amount of diverse client work. They relied on ActionFlow and developed their businesses to a new level. Functions provided in this software give more capabilities for your project's successful realization as well as create individual solutions to meet your needs.
Business process development and automation tools prevent human-caused errors, remove bottlenecks, and also prevent data loss by determining every job stage and prompting your workers when action is required.
Management tools make easy, accurate, and clear communication via the company. With the CRM module businesses can enhance clients' relationships, besides, making payment procedures easier.
Business process automation ensures accountability to guarantee accurate data processes.
So, the advanced functions lead to reducing costs for resources and materials.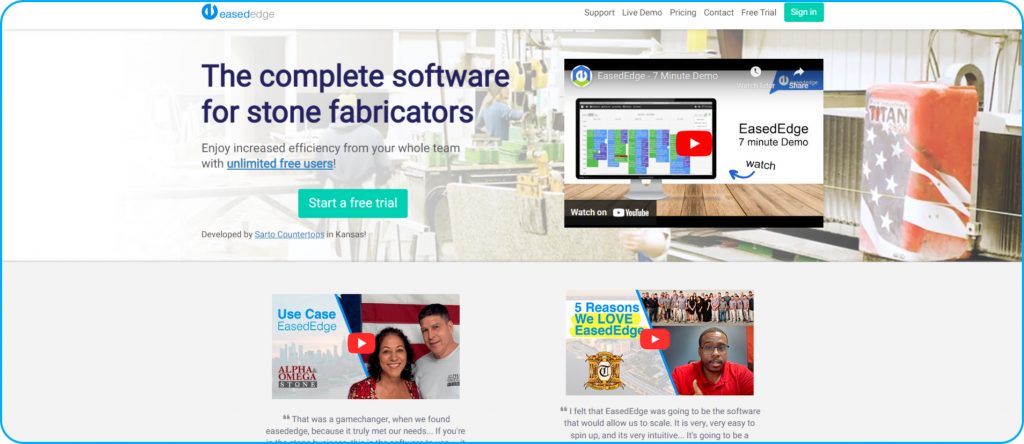 Countertop software guides you with an effective working process. The solution meets all technical requirements to satisfy all countertop fabricators' needs.
Tools for correctness in measurements and calculations of the square footage of job drawings are included in Easededge.
With the scheduling and mapping tool users can create calendars and events and have access to them on various devices.
The software provides the capability to keep track of all your slabs and remnants too.
Functionality includes creating estimated templates and converting them to invoices.
Easededge software's convenience will bring you many advantages at work.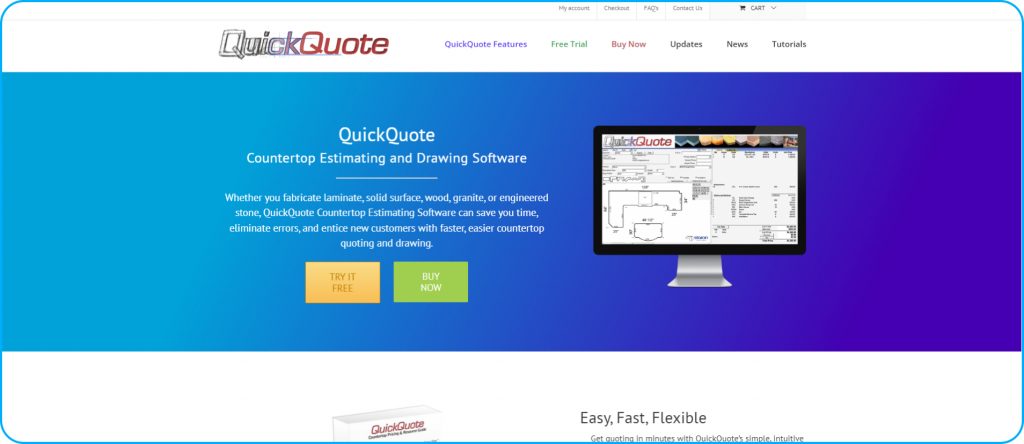 This granite fabrication software or any other stone kind for countertop creation will simplify your operations through its tools. All necessary details of the project are put together in one space. So, users can utilize software that includes functions for each countertop creation stage.
Customers can make quotes in minutes, place particular pieces as they want, try different places, and generate all their ideas quickly.
Avoid double-entry by exporting to diverse formats such as QuickBooks, Job tracker, DFX/DWG, etc.
Standard quote printouts show two elements such as pricing and drawing to guarantee there is no confusion about what's in the estimate.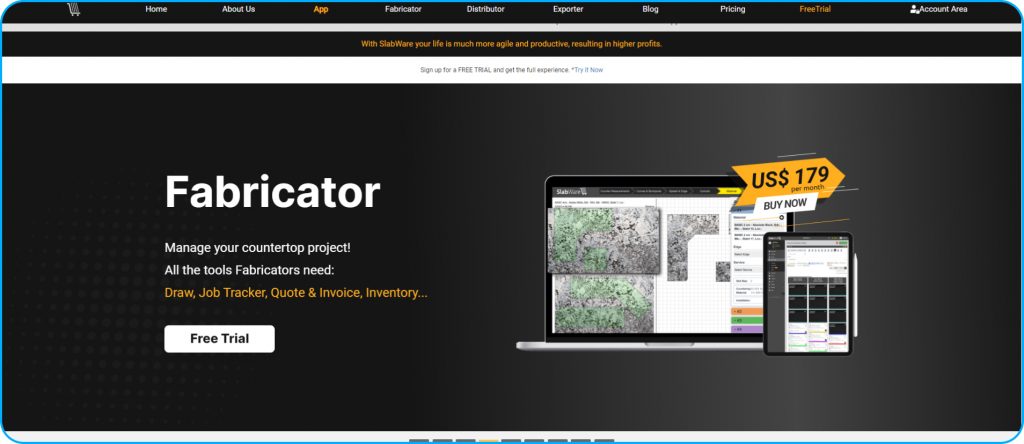 When the company created this countertop software its motto sounded like "Manage your business at any time and anywhere". No wonder, the program is really easy and convenient to use.
Drawing tool where fabricators can draw projects from scratch serves as a professional creator of layouts for countertops.
Precise measurement tools and accurate elements' location allow fabricators to get high results in the real-time construction procedure.
Job tracking provides better team organization and creates tasks in the calendar.
What is Countertop Software?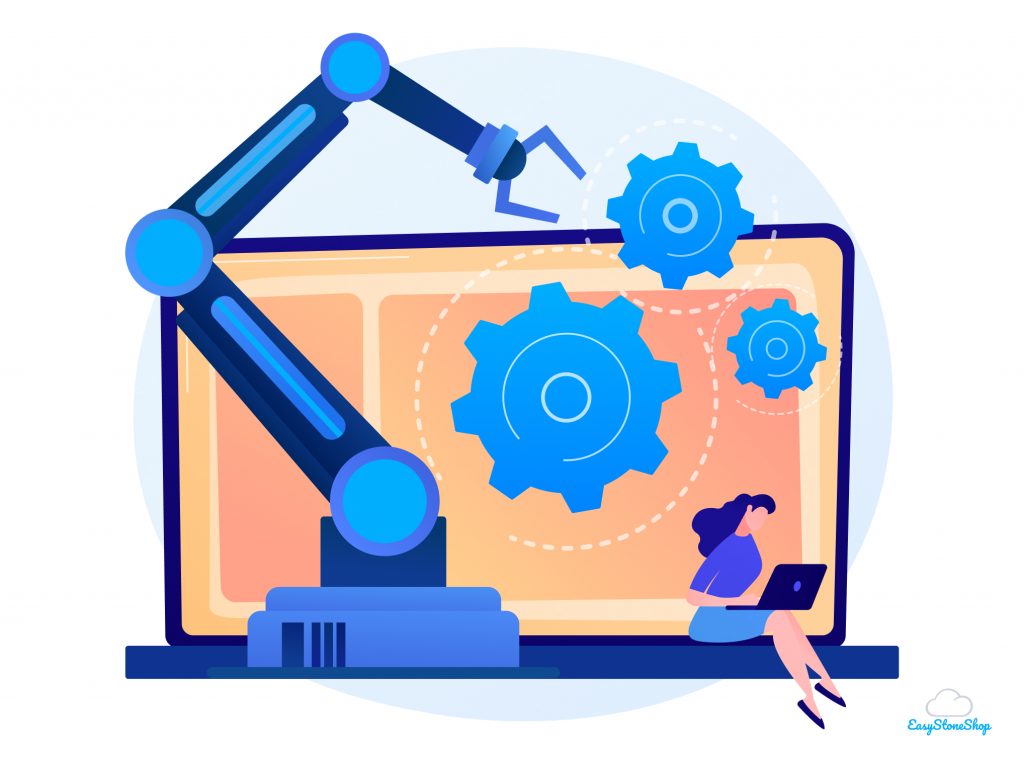 To give more detailed information about the countertop drawing app let's take a closer look at its definition.
Countertop fabricator software is the set of tools necessary to perform directly countertop creation process. In simple words, it is a custom-built program aimed to meet the needs of the construction business.
Construction processes require excellent accuracy in measurements. In most cases, manufacturers rely on their skills. But combining expertise and modern automation methods will lead them to the best results.
We suggest you look back at the main purposes of countertop software in more detail.
Aims of Solutions for Stone Countertop Fabrication
Have you ever thought that fabricators whose specialization is connected with the countertop creation process could improve their final outcome using countertop software?
In most cases, the solutions mentioned above include various functions at once. Nonetheless, sole-purpose countertop software tools also can be created by a software development company to satisfy particular business needs.
At this stage, our team has put together the most common of them for your comprehensive familiarization.
Countertop Drawing Software
This function is usually included in the countertop software functionality. It provides such abilities as drawing a countertop shape, changing dimensions, and drawing countertops in general. Also, customers can lay out drawing elements at the location they want and overview whether their position is suitable to project requirements. Usually, this software automatically generates scaled and labeled images of various materials and options required by the customer followed by attaching them to quotes provided by the fabricator.
Countertop Template Software
An essential part of the countertop software functionality is having the access to diverse templates from slabs and corners to countertop templates in general. You don't need to draw everything manually. As well as countertop software includes such a template feature along with all the separate countertop template software that contain a lot of variants of templates. Moreover, it can provide an online store with items you can directly purchase selecting a suitable structure, material, color, and size.
Countertop Estimator Software
This kind of software includes such general functions as countertop estimating, making layouts for slabs, and due to these actions creating printable quote documents with prices to send customers quicker than in a simple way. Usually, when users have already started the quote the revision stage is followed by two options such as "save a new revision" and "update revision". The first one implies making a new project quote on the quote information page. Another one saves changes the user has made to this version and updates it accordingly. A good example of countertop estimator software is Easy Stone Shop. Its quote document sample is presented below.
Countertop Drawing Apps Benefits
Convenience. Keeping all essential elements of specific items in your device makes it easier to search, wherever you are. The client's call can make you seek a particular project. So, this will be simpler if you have all your drafts and information in electronic form.
Organization of order. It is more effective and proper to save your templates, drawings, numerical details, and clients' data in one space. Besides, tools such as the calendar can remind you about your deadlines. Scheduling the particular working process in your own software will keep you posted about all details at any time.
Quickness. A visual display of your work (with such an alternative for the fabrication process) gives you a picture of your next step. Tracking all your activities in countertop software makes your construction procedure more precise and quick.
Our company has created a multifunctional countertop software that is popular in the market and has a lot of advantages including all the aforementioned. So, you can try the Easy Stone Shop solution to feel its benefits yourself.
Conclusion
In this article, we overviewed countertop software definition, its benefits, and the best solutions for fabricators.Although each countertop software has similar features because of its tools and convenience for users, nonetheless, the most fitting decision among them is Easy Stone Shop which has a wider range of tools in contrast with others. Modern fabricators, who turned to digitization, choose the worthy one for their taste. No doubt, customers will prefer this software more due to its functions and demand on the market among rivals.